About us
Founded in 2004, IsonaLinen is family owned business, that is aimed at creating simple yet stylish home textiles and clothing from beloved linen fabric. Being passionate about wonderful features of linen fabric, we decided to produce table linens, bath linens, kitchen linens and linen bedding that will make your home cozy and stylish. Linen clothes, that we offer, are designed to be chic and effortless being your everyday companions whether you are having a beach walk, day at the office or a night out.
MORE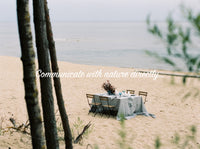 BEST SELLERS
Adelaide Rose Quartz Open Back Linen Dress
Barcelona Natural Smocked Linen Dress
Ibiza Ice Blue Linen Top With Fringe
Large Linen Tote Bag Natural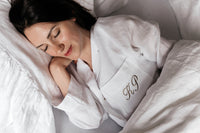 Personalization
Looking for a memorable gift to your friends and relatives? Or always dreamed of a special table linen set with your own initials? We offer monogramming services to make your selected garments even more unique.
MORE
CUSTOMER REVIEWS
beautifully made apron dress. the fabric is dreamy, thin yet substantial. I had some concerns about the shipping. They were handled quickly & my apron arrived safely and within the estimated time frame. I love my new apron dress!!! I highly recommend!

Mari
I loved this dress the moment I tried it on. It fits beautifully, like a glove. The fabric is nice and quite soft. I think I will be back for more soon, would fully recommend this shop! Thank you!

Sophia
I love the sleeveless top I bought in grenadine color. Lovely fit and very good quality linen. I am already buying more

amutha
Absolutely gorgeous linen shirt,beautifully made and finished. Color is great, fabric very soft. Looking forward to purchasing more from this shop. Excellent communication!

kac519
Nice quality apron at a decent price. It is well finished, and a sturdy linen.

jccdc
Lovely seller, positive energy all around. Honest product, great quality that feels like it will be worn by me for many, many years. The style is so unique and fun- better than I imagined it would be! Elegant and modern. And the color- really something else. Totally recommend this shop for those special items you want to have for a while. <3 <3 <3

Delaram
Simply beautiful! I ordered the green linen apron for myself and it is wonderful! I'm 5'7" and wear a U.S. size 8 and it's a great fit.
The craftsmanship is lovely. I have machine washed it a couple of times and line dried - it's come out very nice. Highly recommend for a gift or for yourself.

Elizabeth
Wonderful quality product! Shipped quickly

cartscott